Get your compost bin this International Compost Awareness Week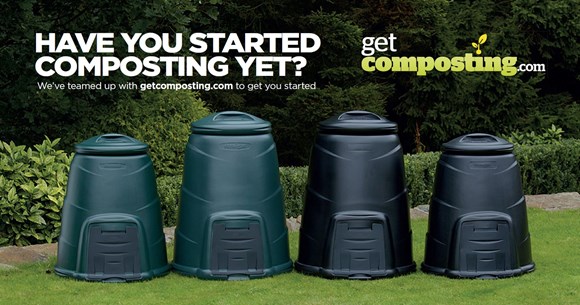 With International Compost Awareness Week just around the corner, North East Lincolnshire Council is encouraging more people to get composting.
Residents can purchase discounted compost converters from as little as £9.50 – and with the "Buy One Get One Half Price" offer, you can purchase a second compost converter from only £4.75.
Head to getcomposting.com where you will find compost bins, food waste digesters and hot composters allowing you to compost all of your household food waste.
It's simple to do and once you get started, you'll be surprised at just how much daily household waste can be recycled.
International Compost Awareness Week runs from 5 May to 11 May to raise awareness of composting and the benefits it has on the environment.
More than 30 per cent of the average household waste can be composted and although some households already compost at home, we want others to get involved.
Home composting organic waste also helps to significantly reduce carbon emissions.
A total of 11,000 tonnes of garden waste was composted last year from both kerbside collections and community recycling centres.
You can still sign up for the garden waste collections, which has already seen more than 22,700 households sign up to this year's garden waste service, with the highest number of sign-ups in March on record, totalling 19,100.
There are a range of compost bins and accessories available.
For full details or to order, visit www.getcomposting.com or call 0844 571 4444 quoting reference NEL12L.
The "Buy One Get One Half Price" offer is available on selected products. A one-off delivery charge of £5.99 applies.
And if you want to buy compost, you can purchase it from the Grimsby community recycling centre for just £2 a bag, with up to five bags maximum per day. Compost is limited availability.
You can sign up for garden waste collections at www.nelincs.gov.uk/PayGardenWaste.
Contact Gi Grimsby
Email us: news@gi-media.co.uk
Follows us on Facebook and Twitter for all the latest local stories, breaking news and to join the conversation