Beware council tax email scam.
North East Lincolnshire Council is warning people of a scam email that is circulating in the area. The scam email about council tax refunds is a very realistic looking scam.
The scan email promises a council tax refund for overpayment. If you click the links within it and follow the instructions given it can compromise your personal information.
There are flaws with the email with a paragraph about getting your refund fast being repeated.
If you are in doubt contact the council directly on 0300 303 0164 (option 5) or email [email protected]
This email looks genuine but it is not real.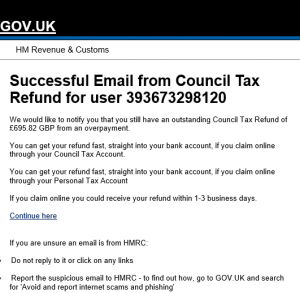 Contact Gi Grimsby
Email us: [email protected]
Follows us on Facebook and Twitter for all the latest local stories, breaking news and to join the conversation